Courses
Enroll Now
Heartworks Lomi Lomi Massage Course - Level 1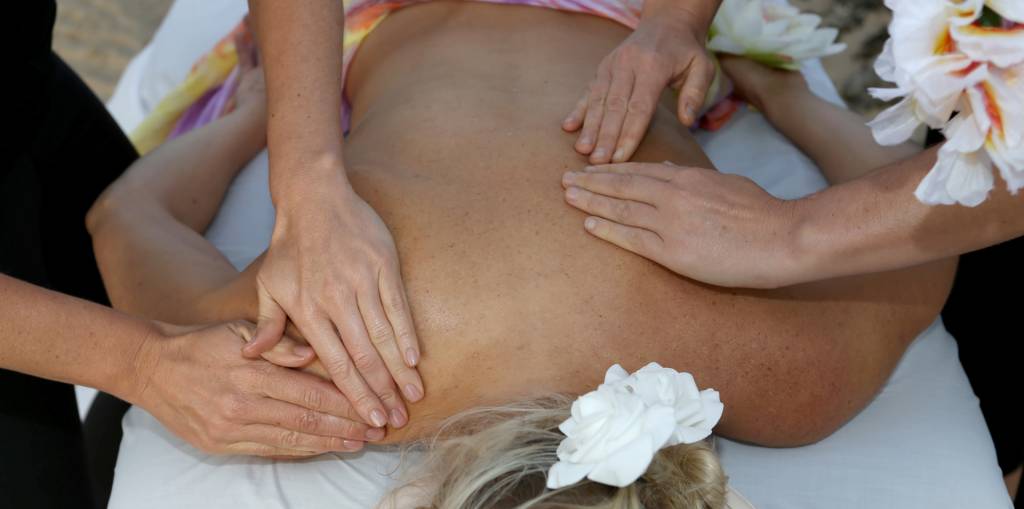 4 Day Ancient Hawaiian Healing Massage Course
Imagine 4 days of giving and receiving nurturing Hawaiian massage, meditation, nature connection, yoga and more!
Dive into a transformational 4 days of Hawaiian massage at our healing centre on the Gold Coast.
Heartworks Lomi Lomi is a full body Hawaiian Healing Massage that brings the body into balance, by harmonising the heart, body, mind and spirit.
You will learn this powerful healing and detoxifying massage with Katharine Walton and Kirralee Campbell, massage therapists with over 16 years experience who will guide you through 30+ hours of massage and training.
Our course is approved by Mette's Institute and you will receive an Accredited Heartworks Lomi Lomi Level 1 Certificate at the end of the weekend.
No massage experience necessary. Come and be nourished.
Heartworks Lomi Lomi is a full body Hawaiian Healing Massage that brings the body into balance, by harmonising the heart, body, mind and spirit.
It is a very nurturing, powerful and detoxifying massage that works by cleansing the lymphatic system, soothing the mind, relieving muscle tension and clearing the meridian lines in the body.  Lomi Lomi is also known as a heart opening and spiritual healing massage, that is potentially life changing.
During our 4 Day Lomi Lomi Course you will learn:
How to give and receive a full body 90min Lomi Lomi massage
How to create flow with your massage
Heart breath meditation (a powerful heart opening meditation)
New tools on how to connect deeply with yourself and others
New techniques to help you recharge and re-energise
To explore your hidden gifts and inner wisdom
The 7 Hawaiian Principles (Philosophies) and how to integrate them into your life
You will:
Receive an Accredited Heartworks Lomi Lomi Level 1 Certificate. A Mette's Institute approved course. This enables you to be a Lomi Lomi Practitioner
Receive 38 hrs of Massage & Training
No previous massage experience necessary.
Many people do this course for their own personal growth, without needing to be a practitioner.
There will also be:
– Gentle exercising, stretching, yoga and nature connection.
How will this course benefit you?
This experience is so much more than learning a new massage technique, it is designed for deep healing, personal and spiritual growth and transformation.
Additional benefits:
You will learn tools to:
Reduce stress, anxiety and depression
Honour and nurture your body
Feel more confident and empowered
Feel more grounded and connected
Gain clarity, focus and a general feeling of well being
Feel present
Connect deeply to your heart
Discover the importance of self love and self care
Soothe your mind
Improve sleep patterns and increase energy levels
Release emotional or traumatic blocks
Strengthen your immune system
Heighten your intuition
Add flow and vitality to your massage
Experience the balance of giving and receiving
Plus so much more….
Price:
$790
$690 – Early Bird Price ($200 deposit paid four (4) weeks before course commences)
4 day course approximate times:
Thursday:       9AM – 5PM
Friday:             8AM – 6PM
Saturday:        8AM – 6PM
Sunday:          8AM – 4PM
*Please bring your own food – Herbal tea and light refreshments included.
Breakfast is included on Saturday and Sunday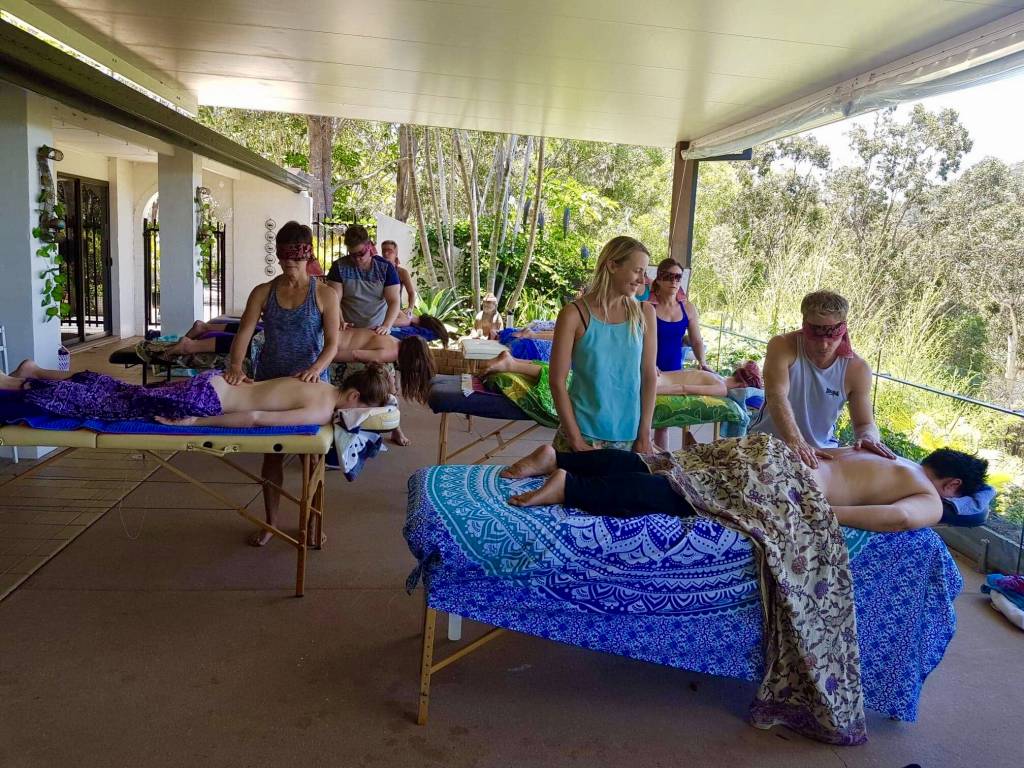 ADVANCED INTUITIVE MASSAGE TRAINING
Do you want to deepen and develop your massage work? Empower clients and birth transformation in your practice?
What is included:
• 2 beautiful days of diving into soul connection through intuitive massage
• Learn Hot stone massage techniques to embody healing and heart connection
• Deepen your understanding of moving blocks through massage with deep tissue techniques
• Learn to tap into the body rhythms sharpening your intuitive guidance for massage flow
• Processes to dive deeper into your heart space and understand your healing gifts
• Processes to strengthen your intuition and empower transformation• Build connection and trust for your clients growth and wellness
• Connect and feel supported and nourished in sacred space
Approximate Course Times:
Saturday: 8am – 6pm
Sunday: 7am – 6pm
Price:
$490
$440 Early bird special (enrolled and $200 deposit paid before four (4) weeks before the course commences.)
Limited spaces available.
Please note:
As this is an advanced course you will need to have completed Level 1 – Heartworks Lomi Lomi through Earth Therapies.
If you would like more information please email us on info@earththerapies.com.au
YOUR FACILITATORS: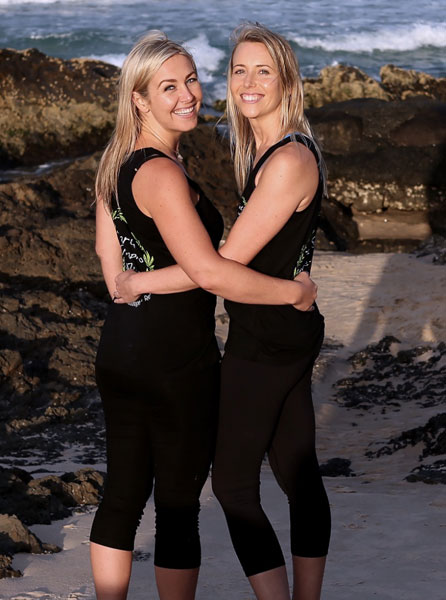 Katharine Walton and Kirralee Campbell have a deep passion for massage and have over 15 years experience in the massage and wellness industry.   "We love teaching Lomi Lomi Massage because we have both experienced powerful transformation and positive life changes from Hawaiian healing massage and we want to share the love and ancient healing wisdom with others and the World. One of our greatest passions is empowering people to discover their unique gifts. Holding space for people to deeply relax, let go by surrendering all that no longer serves, centre, nurture and retreat inward thereby connecting deeply with their heart, their light (soul), listening to their inner wisdom and discovering their magic within. Which in a nutshell is what Lomi Lomi does."
Lomi Lomi is a powerful massage that brings so much joy and happiness into people's lives: Connecting heart to heart and harmonising the heart, body, mind and spirit.
ADVANCED INTUITIVE MASSAGE TRAINING
16th & 17th October 2021
HEARTWORKS LOMI LOMI – LEVEL 1
25th – 28th November 2021
To secure your booking we require a $200 deposit – the remaining balance can be paid two weeks prior before the course commences.
Please note: If you are coming from interstate, accommodation is not included.
Location:
Earth Retreats Collective
5/93 Ashmore Rd, Bundall GOLD COAST
Contact:
Katharine – 0422 572 001
Kirralee –    0420 577 600
We look forward to sharing the Aloha with you
Love and blessings
Katharine and Kirralee x
Testimonials
"I wanted to say a BIG THANK YOU to you both for all your hard work, loving & positive energy & your sharing of your knowledge.  The 3 days that I spent learning Lomi Lomi wasn't what I expected – it was so much more. I didn't just "learn" a massage technique I got to live it, totally embrace it in the beautiful environment & most importantly bring it into my heart.  It was so special. I feel very honored to have been part of this experience & share it with all the other special souls that I had to pleasure to learn with. Again, thank you both & I will totally be back to learn more."
-Kate McPherson
"I can't thank you both enough for everything it was SO SO life changing and awesome, I feel so empowered! You girls are so beautiful and touching it's incredible, I don't think I'll experience something as special as that was. You both deserve so much and you have given me so much love and light it amazes me. You will change so many lives, I already know it because you have changed mine. Thanks Kirralee and Katharine you are amazing!" 
-Claire Siedlecki