Pregnancy Massage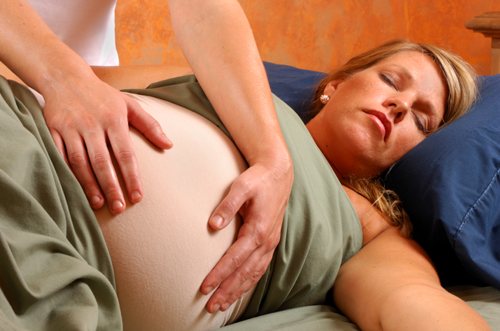 Pregnancy Massage
Nourishing and nurturing massage for the beautiful Mum to be.  A wonderful blend of relaxation and deep tissue techniques designed to de-stress, dissolve muscle aches and pains, reduce swelling, enhance sleep, is calming and soothing by bringing the body into balance.
Our pregnancy tables are designed for Mums comfort so she can let go and relax.
Earth therapies offer a specialised massage service to expectant Mothers that is completely safe and effective. Why should pregnant Mums have massage? During pregnancy Mothers experience unique physical and emotional changes, resulting from increases in weight, shifting posture and increasing/decreasing hormone levels.
Despite this being a beautiful period of heightened expectation and joy, it also carries with it increased physical discomfort, ranging from muscular tension and headaches, to pressure on the knees.
Pregnancy massage (prenatal massage) is a natural, touch therapy treatment which alleviates these and other pregnancy related symptoms. Earth therapies only uses safe and proven massage techniques to ensure the increased well-being of the Mother and Child.
We have custom made tables especially designed for pregnancy massage. Our table has been designed so our beautiful mothers can receive massage while laying face down.  It is important for the Mother's body to feel comfortable, safe and supported while receiving massage.
We specialise in pregnancy massage and find that our style of pregnancy massage is unique and effective. Therefore it is important when choosing a therapist to ensure they have the appropriate qualifications and training.
THE MANY BENEFITS OF PREGNANCY MASSAGE (PRENATAL MASSAGE) INCLUDE:
Delivers emotional support through nurturing touch.
Increased circulation improves baby's oxygen supply.
Reduced swelling in hands and feet.
Prevention of varicose veins.
Reduction of stress on weight-bearing joints.
Alleviates back and neck pain caused by muscular imbalance/weakness.
Improves elasticity of the skin and stabilises hormone levels.
Please advise our massage therapists of which trimester you are in as well as any other health conditions when booking.
If you are unsure it is best to consult your doctor before receiving treatment. Many of our past clients have reported feeling relief from tension and stiffness in muscles, joints and back pain.
Pregnancy massage (prenatal massage) also increases energy levels within the Mother and improves nourishment to the baby.